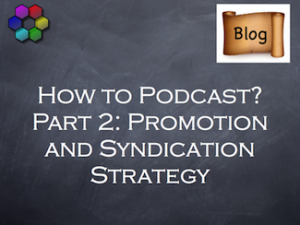 If you are producing a Podcast, are you reaching as wide an audience as possible?
This post is all about Launch, Promotion and Syndication for your Podcast!
Episode 64 – A Conversation with the Six Minute Strategist Podcast
Launching Your Podcast
For advice on a launch strategy, I can do no better than refer you to Chris Ducker's excellent post on this.  It was reading this blog post that prompted me to look against my podcast statistics and to write this blog post and podcast episode (of course).
Chris explains the key steps to preparation and launch and gives some great tips on how to do well in iTunes, especially in the first eight weeks after launch.  One key point to note is that you cannot rank in the New and Noteworth section of iTunes until you have published three episodes – so definitely follow Chris's advice to get your first three episodes out in the first week after launch.