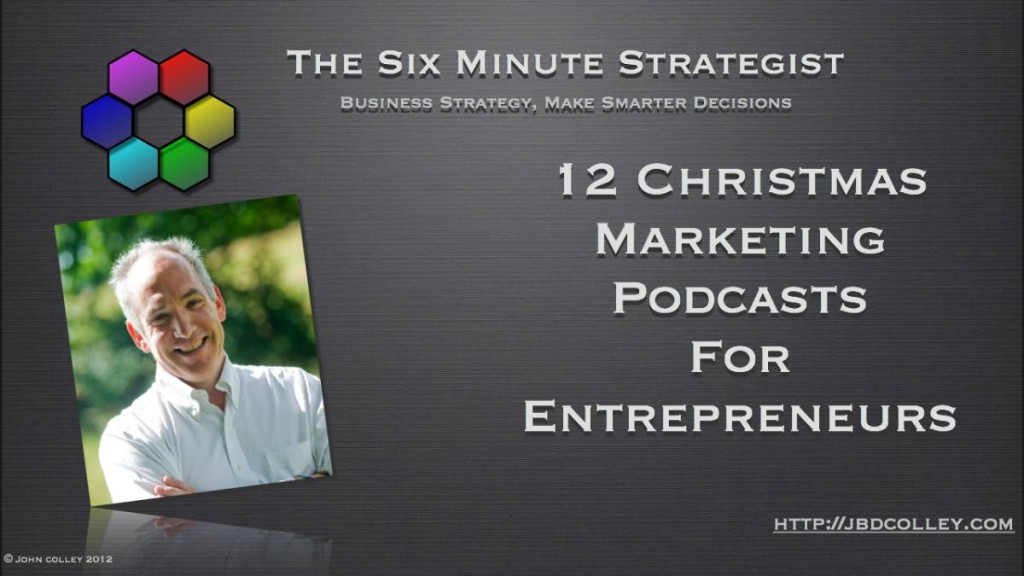 As it is Christmas, I thought that I would give you an early Christmas Present as well as try to inspire you for 2013.
A Christmas Stocking stuff full of amazing sources of brilliant content!
I have collected together my favourite 12 Podcasts which I believe will give you, the Entrepreneur, great value, fantastic ideas and above all inspire you to take your business forward in 2013.
You can see the Slideshare embedded deck below:
To make it even more fun, I have created a 2013 Calendar also on Slideshare, which you can download for free and with no sign ups.  This has one Podcast per month and will remind you to go and listen to a different one each month.  Where appropriate I have included links to iTunes and to the associated Blog.  Please note there are no affiliate links whatsoever in this post, after all its Christmas and the time of gifts and goodwill.
The Calendar is available in UK and US versions (public holidays).
This is the US Calendar
These are the people who inspire me – I hope they inspire you!
In no particular order…
Duct Tape Marketing – Jon Jantsch
Apart from being an amazing Author of three great business books, Duct Tape Marketing,      The Commitment Engine and The Referral Engine, John has a great podcast with fantastic guests.  His website has a great list of resources and you can also download a free ebook" 7 Essential Stages of a Total Online Presence".
The links to his website and the iTunes podcast are below.
http://www.ducttapemarketing.com
https://itunes.apple.com/gb/podcast/duct-tape-marketing/id78797836
The Eventual Millionaire – Jamie Tardy
Jamie conducts some great interviews with successful entrepreneurs who are Millionaires.  They share their story and through their experience, Jamie aims to help you, the Eventual Millionaire.  The Podcasts are great fun but contain some serious content and are well worth subscribing to on iTunes.  Her site also contains links to her interviews under the Case Studies section.
http://www.eventualmillionaire.com
https://itunes.apple.com/gb/podcast/how-to-become-millionaire/id414496714
Marketing Over Coffee – John Wall and Christopher Penn
John and Christopher present a weekly discussion format podcast which covers the latest developments and controversies in Online Marketing.  Their discussions, combined with an active Linkedin Group, are both entertaining and very informative.  I also find their "Almost Timely Newsletter" which comes out once a week, well worth signing up for.
http://www.marketingovercoffee.com
https://itunes.apple.com/gb/podcast/marketing-over-coffee/id251299460
Mixergy – Andrew Warner
Andrew is the maestro of the Entrepreneurial Interview.  With over 800 great interviews conducted, his meticulous preparation results in well structured and incisive discussions with successful entrepreneurs.  He offers over 80 courses in his membership site, Mixergy Premium,  which you may consider joining once you have listened to some of his interviews.
The Rise to the Top – David Siteman Garland
David's show is never dull – he has such great energy.  He always has real "A List Mediapreneurs" and I have learned a great deal from listening to his interviews.  His site has a great blog and his product recommendations are worth reviewing too!  If you have any doubts, just go and listen to one episode, but don't blame me if you develop an addiction for the podcast (I did!).
http://www.therisetothetop.com
https://itunes.apple.com/us/podcast/rise-to-top-1-badass-show/id395547693
Six Pixels of Separation – Mitch Joel
Mitch provides one of the most intelligent discussions on marketing that I have found on the Internet.   He has great interviewees and often does a double hander with Joe Jaffe and neither of them is afraid to be controversial.  Mitch has written a best selling book, Six Pixels of Separation which is also well worth a read.
https://itunes.apple.com/us/podcast/six-pixels-separation-marketing/id157616278
Pat's blog and podcast are one of the riches resources on the web for Entrepreneurs who want to improve their online marketing, as well as understand better the road to a passive income.  Pat's free ebook on how to write, publish and market an online ebook is a great worthwhile download in its own right.  Pat offers fantastic value for his readers and listeners and I very much enjoy is podcast and blog.  If that was not enough, he also has some brilliant How To videos which can be found on YouTube and I recommend subscribing to his channel there.
http://www.smartpassiveincome.com
https://itunes.apple.com/us/podcast/smart-passive-income-podcast/id383084001
Social Media Marketing – Michael Stelzner
Although Social Media Examiner has been a cornerstone of the online blogging world for many years, the podcast only started in July this year and is on episode 18 as I write.  That having been said, it is definitely not one to miss.  Michael has had some amazing guests and also provides some great advice and resources.  Listen out for his voice over man – a brilliant american cockney, Guv!
http://www.socialmediaexaminer.com
https://itunes.apple.com/us/podcast/social-media-marketing-podcast/id549899114
CopyBlogger – Robert Bruce and Brian Clark
This site, as it title suggests, focus on the detailed matter of content creation and the importance of copywriting.  That having been said, the interviews with great interviewees are always engaging and this is the sort of podcast that Evernote was built for.  Try listening and not taking notes!  They also offer Scribe Content Marketing software to show you how they do it.
https://itunes.apple.com/gb/podcast/internet-marketing-for-smart/id402427480
Online Income Lab – Trent Dyrsmid
Trent's podcast is full of helpful and practical advice to make the most of your online presence.  You do not need to be in the "make money online space", if you are creating content he will help you to do it faster and smarter. Trent is a strong advocate of outsourcing low value and repetitive tasks and this can be a real time and money saver for small businesses.  His resources section is worth checking out on his Blog here.
https://itunes.apple.com/us/podcast/the-online-income-lab-blog/id442831905
Social Triggers – Derek Halpern
This podcast and blog focus on the psychology of online marketing and Derek covers some really clever and thought provoking material in a totally accessible way.  His interviews are also brilliantly engaging and well worth the time subscribing to in iTunes.
https://itunes.apple.com/us/podcast/social-triggers-insider-marketing/id498311148
Chris Ducker
It is impossible to produce a list like this and not include Chris Ducker.  I listened to every one of his "Virtual Business Lifestyle" podcasts and these can be found on Tunein – see the link below.  Chris will shortly be launching another podcast and based on the past,  it will be on my iTunes subscription list the day it launches.  Chris has an active Facebook community which is worth following and a great blog.  When I thinned out all my mailing list subscriptions, Chris's stayed firmly in there!
http://tunein.com/radio/Virtual-Business-Lifestyle—Online-Business-Start-Up-Entrepre-p412751/
Bonus: The Four Hour Work Week – Tim Ferris
The Art of Meta-Learning.  OK, strictly speaking this is not a podcast or a blog but a trilogy of three books which will help you to challenge the way you organise your life and your business and at the same time teach you some of Tim's brilliant techniques for Meta Learning or hour to learn 80% of what you need to know in 20% of the time.  Four sentences does not begin to do Tim's work justice – go out and buy one of the books.  Then try NOT to buy the other three.  I have the Four Hour Work week on my iPad but I am having to buy the paperback to use it as a reference guide.  Now how many books can you say that about today?
http://www.fourhourworkweek.com
Please note there are no affiliate links whatsoever in this post, after all its Christmas and the time of gifts and goodwill.
I wish you all a very Merry Christmas, Happy Hanukkah or whatever your Creed or Faith,   a very Happy Holiday to you all!