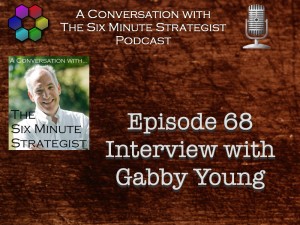 I recently had the pleasure of meeting Gaby Young and Other Animals at the Wiltshire Jazz Festival, an amazing festival of Jazz put on annually by Mark Allen at his home in Dinton in Wiltshire.  If you would like to know more about the Wiltshire Jazz Festival you can find out all about it here.
Gabby and the Band are currently running a Kickstarter Campaign to fund their third album and Gabby kindly agreed to come onto the Podcast, A Conversation with the Six Minute Strategist, to talk about her music and the Kickstarter.  You can listen to our conversation below.  Listen out for Gabby's impromptu singing at the end, its definitely worth waiting for!
Gabby's latest Kickstarter Campaign to fund the Group's next record can be found here.  The Campaign runs until 30th June 2013 so if you are reading this before that date, please go over to Kickstarter and support the Band.
I have embedded one of the Band's videos for you to get a real flavour of their amazing "Circus Swing" sound.
You can Visit Gabby's Website here.
On Twitter Gabby is https://twitter.com/gabbyyoung and you can find her on Facebook here.
I hope you enjoyed this Episode and Thank You, as ever, for joining the Conversation!