Podcast: Play in new window | Download | Embed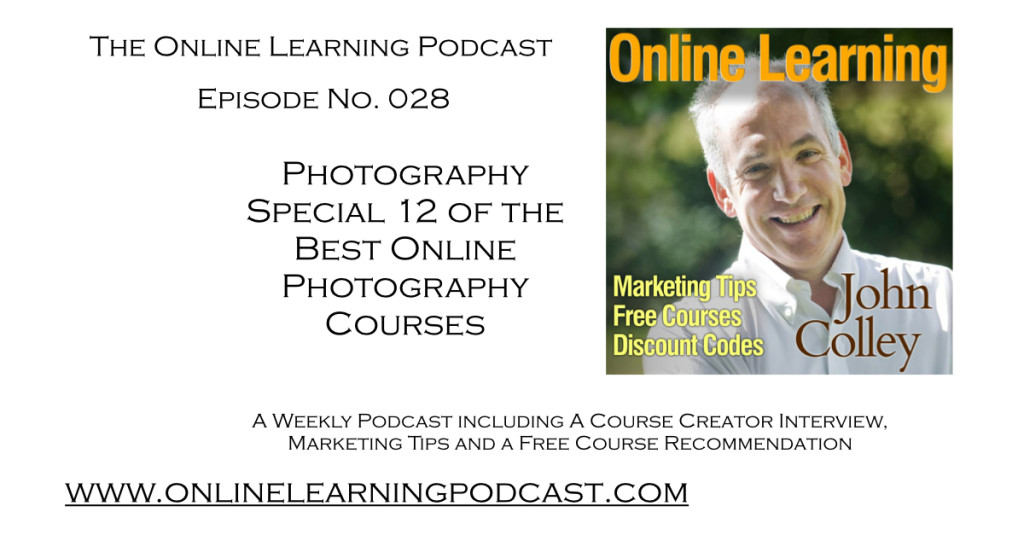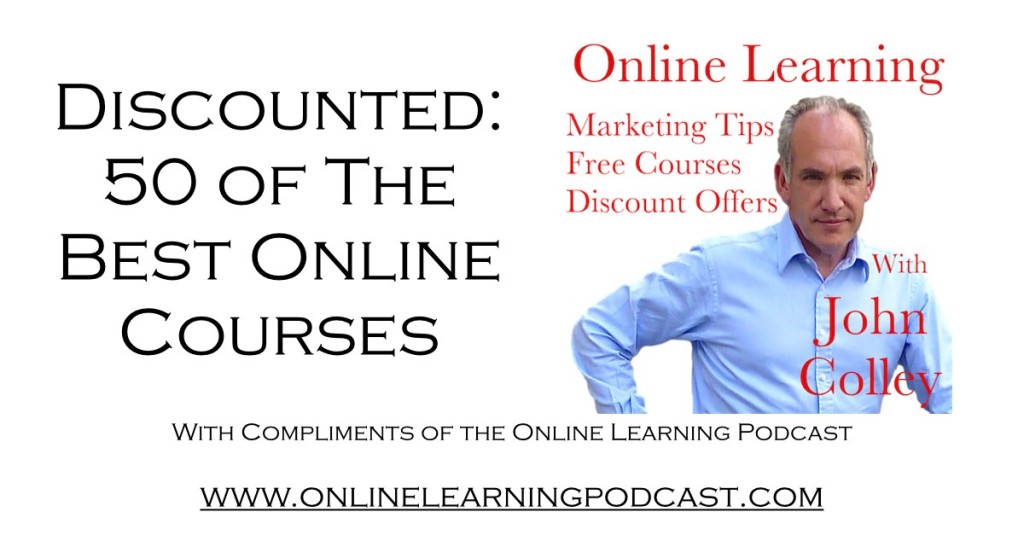 Photography Special Edition – I select 12 of the best Photography Courses for you, six free, six paid.
Don't Miss An Episode!  Subscribe Below:
Using something Else?  Copy this Address:  
https://jbdcolley.com/olpfeed or https://jbdcolley.com/feed/podcast/?wpmfeedkey=1;e975168c39a63e2f7befd9ba8758bf9e
In this Week's Episode: 12 of the Best Photography Courses
I am launching this Episode in the middle of Black Friday week and Udemy are running a site wide Black Friday offer, with a declining discount offer (the sooner you buy, the higher your discount).  I have provided direct links for these offers at the end of the paid courses and I will remove them after 30 November 2013.
Secondly, I have arranged my own Black Friday offers directly from Course Creators for your benefit.  These are listed at the end of this post or you can visit the show notes for the Special Episode here.  These discounts are fixed and may well beat the Udemy offers so check out both before you buy.
Finally, Phil Ebiner was my guest in Episode 005 of the Online Learning Podcast.  He is one of the leading Photography Course Creators.  You can find offers to three of his courses in the Show Notes for Episode 005 here.
Photography – General Skills
1. Karl Taylor's FREE Photography Course – as it says – FREE: by Karl Taylor – Start off learning DSLR photography with 14 instant lessons
2. Photography: Ditch Auto – Start Shooting in Manual – FREE: by Jerad Hill – In this course you will learn the basics of DSLR Photography and how to shoot in manual mode.
3. The Art of Black and White Photography – $99: by David J Nightingale – So if you're confused about which black and white conversion techniques to use, this course is for you. 

4. EasyDSLR Digital Photography Course for Beginners – $39: by Ken Schulz – This course teaches basic photography principles, so you can get into the more creative modes of your camera and start taking better photos. 

Special Techniques
5. Green Screen Photography – FREE: by Dave Cross – This course will show you how you can use a simple green screen set up to increase your creativity – and profits – as a photographer.  This is the link to the FXHome Photokey site which you need if you want to do this sort of photography, at the time of writing this, the software is $299, but you can try it for free (not an affiliate link)
6. Photography Studio Lighting On A Budget – FREE: by Scott Wyden Kivowitz – In this course you will learn about some of the tools that you can pick up for photography lighting with a budget, including flash, monolights, triggers, continuous lights, light stands, light modifiers and accessories.  Another one of Scott's FREE courses, Adding An iPhone & iPad To Your Photography Workflow, was the FREE course recommendation in Episode 006 of the Online Learning Podcast.
Software
7. Forrest Girl – Photoshop Retouching – FREE: by Manfred Werner Manniphoto – In this course you will learn Manfred's complete retouching workflow from A to Z, covering over 50minutes of pure retouching.  
8. Photoshop Tools Crash Course – Complete Photoshop Tool Guide – $49: by Phil Ebiner – Everything you need to know to get started in Photoshop.  To check out the Black Friday Deal from Udemy before 30 November 2013, Click on this Link (Discount varies with when you click, but try it and see)
9. Understanding Adobe Photoshop CS6 – Basics – $40: by John Warren – If you have ever wanted to learn Photoshop from the ground up, so to speak, then this is the best starting point.  To check out the Black Friday Deal from Udemy before 30 November 2013, Click on this Link (Discount varies with when you click, but try it and see)
10. Adobe Lightroom 5 Master Training – Complete Crash Course -$99 but only $29 with this Exclusive Online Learning Podcast Coupon Code Offer (click this link): Phil Ebiner – This Lightroom training course is the perfect course for beginners. 

Sales and Marketing
11.  Get Your Photo's Published – Quickly, Easily And Profitably! – $97: by Alun Hill – In this course, using a combination of videos and extensive guide books, photo-journalist Alun Hill, MCIJ reveals all the inside secrets to sell your photos.
12. Create a Gorgeous Photography Site with SmugMug in 90 mins – FREE: by Ryan Oakley – This course teaches you to create a really great looking, user friendly photography website.  You can find out more about Smugmug here (not an affiliate link)
Check Out My Courses by Clicking on the Links Below
*** Full Disclosure: these are affiliate links.  If you click on this link, you will not pay any more (you still get the full discount) but I will earn a Commission.  If you do buy a course, please email me at john[at]jbdcolley[dot]com and tell me about it.  I would love to thank you personnally for supporting The Online Learning Podcast! Don't forget you can still access the Course and the discount without going through the Affiliate Scheme by simply searching for the Course on Udemy and using the Coupon Code at Checkout in the normal way.  If you do this, Udemy will receive their normal commission and the Course Creator will get the whole of the balance. It is entirely up to you 🙂
You can find out more about Online Courses at www.Udemy.com
iTunes Rating and Review
If you like this Podcast, please consider going to iTunes and leaving us a rating (5 Star if you think we are worth it) and a comment as this makes a HUGE difference  to us on iTunes.  If you do leave me a 5 Star Rating, email me john[at]jbdcolley[dot]com and I will send you a free coupon for my Udemy Course, Entrepreneurs Guide: An Introduction to Startups!