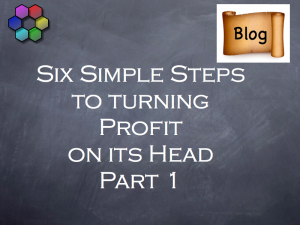 Is Profit something that happens to you and your business or is it something over which you can take direct control?
I have made a short video introducing this topic which I suggest you view first.

FREE BONUS: there is a free Bonus download for you at the end of this BlogPost…
OK, lets get started with the Main Feature…
I think that most entrepreneurs think about Profit the wrong way.  When you read a profit and loss statement, profit comes last after tax and seems in some way to be the result of all the activity above it.  Profit therefore is something that happens to you and your business.  It is the effect of all that activity and effort.
In these two posts, I want to show you the Six Simple Strategic Steps to finding the Profit Formula.
At the end of this Post, I will tell you how to get a FREE Bonus Checklist  to help you with your business in return for subscribing to my mailing list.