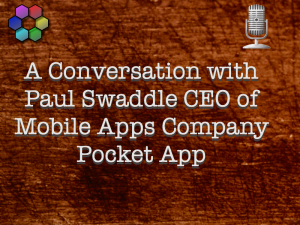 Listen to the latest Conversation with the Six Minute Strategist.
Today I have the pleasure of the company of Paul Swaddle, CEO of App Development company, Pocket App Limited.
You can reach Paul by email at paul[at]pocketapp.co.uk and you can visit the company's website at http://www.pocketapp.co.uk.
Full Disclosure: IAF Capital and Pocket App have a client relationship but that relationship has nothing to do with this Blog or Podcast.  The purpose of this Conversation is to share some of Paul's knowledge of the Mobile App Development market and we are not selling you anything and I will not be remunerated in anyway if you chose to contact Paul as a result of this Conversation.
We just hope you enjoy it and hopefully learn a little about the App Development business.
If you have any comments, leave them below or email me jbdcolley[at]aol.com.
Thank you for joining the Conversation!