Podcast: Play in new window | Download | Embed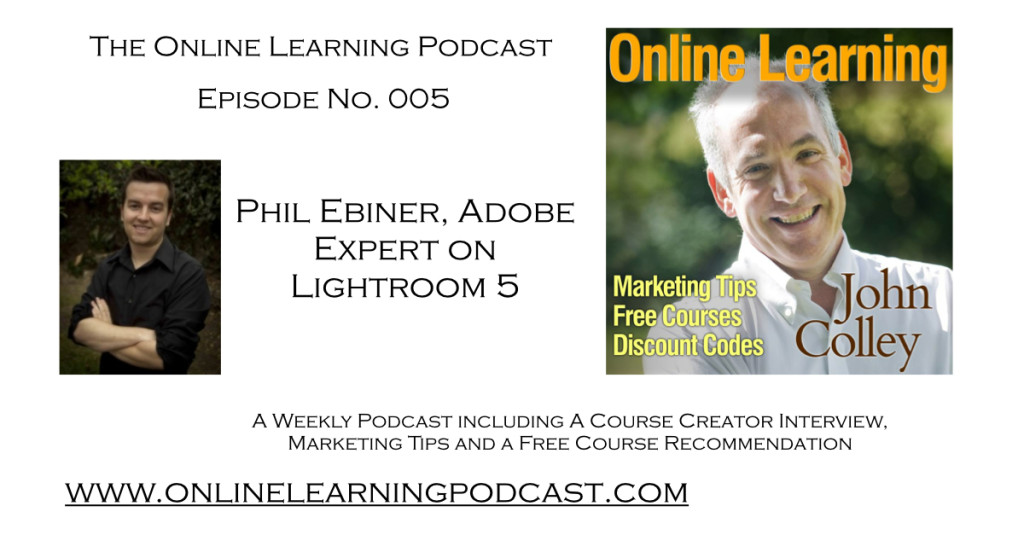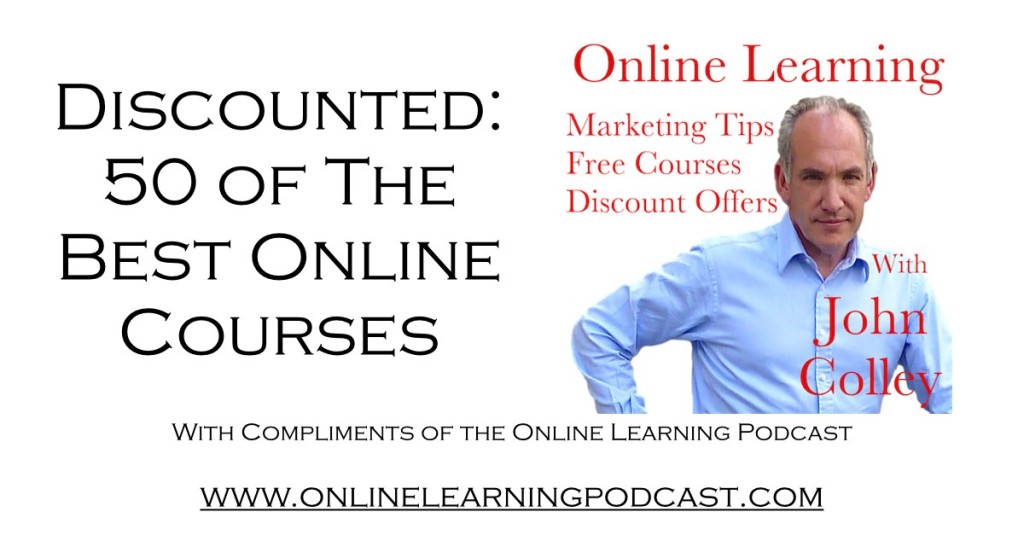 Phil Ebiner, Adobe Expert and how he got 15,000 Online Students
In this Episode I have a great Interview with Phil Ebiner, a Video expert who is a prolific course creator on Udemy and has over 15,000 students subscribed to his courses.
Don't Miss An Episode!  Subscribe Below: 
Using something Else?  Copy this Address:  
https://jbdcolley.com/olpfeed or https://jbdcolley.com/feed/podcast/?wpmfeedkey=1;e975168c39a63e2f7befd9ba8758bf9e
Stop Press
Udemy have outsourced their Affiliate Programme to Linkshare.  Please click on the Links or Images and then, in Udemy, in put the code prior to payment when requested to do so.
In this Week's Episode:
Interview: Phil Ebiner talks about how he has come to create his online learning courses.  He has some great tips for Course Creators and some great discount offers for Course Takers.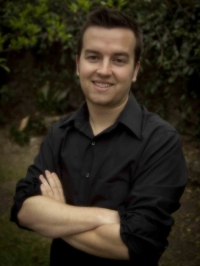 Spotlight Course: Adobe Lightroom 5 – Normally $99 but available f0r $29 by following this link.

Discount Code: OLPPodcast
Category: Photography and Video
Udemy Course Link: https://www.udemy.com/adobe-lightroom-5
Other Udemy Courses:
After Effects Complete Course – this course is normally $99 and you can get this for just $29 using the same coupon code.
Create Your Own Video Intro – this course is great for anyone creating videos, you can get $49 course for $29 too using the same coupon code.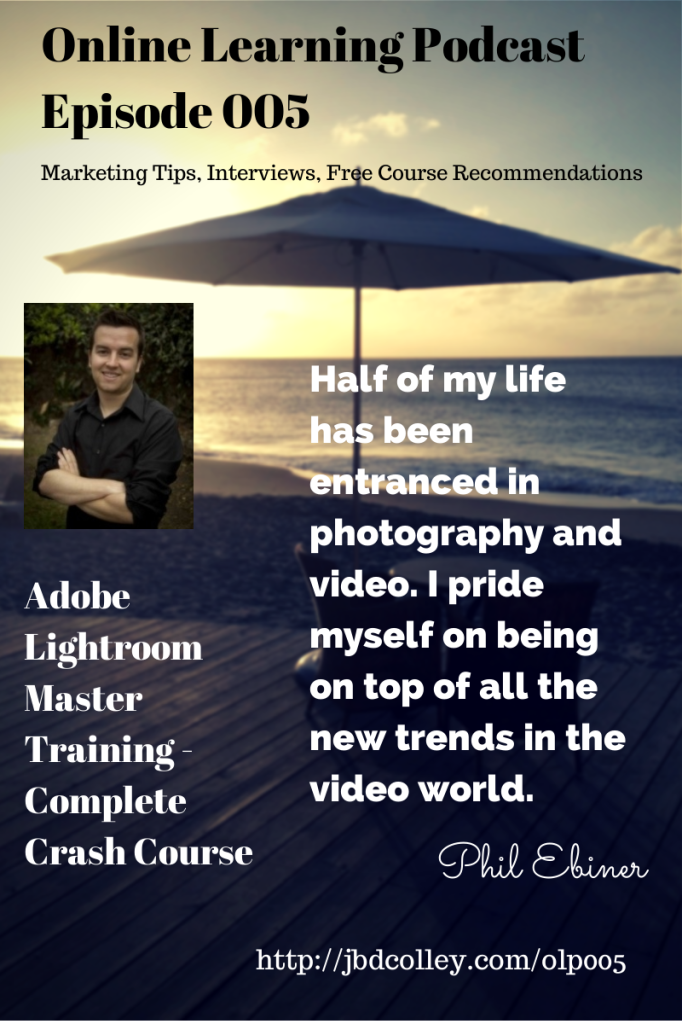 Contact Details:  You can find out more about Phil and his courses by searching for him by his name in the Udemy Course search function.  You can also find out more at Phil's websites:
Marketing Tip of the Week: In this weeks Marketing Tip of the Week, I have a creative suggestion for a way to get additional sales from existing students using Coupon Codes.
Free Course of the Week:  This week I am recommending a fascinating Photoshop Course, keeping the Photography theme going.  The Course is entitled "Photoshop for Artists" created by Stone River eLearning
Check Out My Courses by Clicking on the Links Below
*** Full Disclosure: these are affiliate links.  If you click on this link, you will not pay any more (you still get the full discount) but I will earn a Commission.  If you do buy a course, please email me at john[at]jbdcolley[dot]com and tell me about it.  I would love to thank you personnally for supporting The Online Learning Podcast! Don't forget you can still access the Course and the discount without going through the Affiliate Scheme by simply searching for the Course on Udemy and using the Coupon Code at Checkout in the normal way.  If you do this, Udemy will receive their normal commission and the Course Creator will get the whole of the balance. It is entirely up to you 🙂
You can find out more about Online Courses at www.Udemy.com
iTunes Rating and Review
If you like this Podcast, please consider going to iTunes and leaving us a rating (5 Star if you think we are worth it) and a comment as this makes a HUGE difference  to us on iTunes.  If you do leave me a 5 Star Rating, email me john[at]jbdcolley[dot]com and I will send you a free coupon for my Udemy Course, Entrepreneurs Guide: An Introduction to Startups!