Defining an Online Business Framework
My work at the end of 2014 involved planning for 2015 and that helped me to bring my business into focus and to decide on my goals and objectives for the coming year.  In addition, I was able to look at my systems and processes to see what I was doing, what was working and what was not.  Bringing these processes into line with my Goals and Objectives has helped me to refine my business framework.
I am creating a series of video course modules about this to add to my Course Design Masterclass.  I am developing a sustainable and scalable online business and I am documenting what I am doing (as I always try to do) as I go along.
How Can I Help You with Your Udemy Business?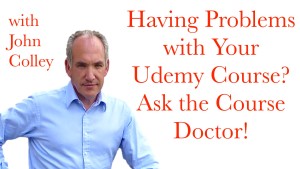 Are you ready to have a chat about how I can help you?
Lets set up a 30 minute no obligation call to discuss where you are and what you are doing.  This will help me to understand what you need and how I can help you.
Simply click on this link – https://jbdcolley.com/survey – to take my short and simple 9 question survey!
There is no obligation at this point.  I will review your registration and then get back to you within a few days.  We can arrange a short call if you have any questions and then move forward.
Online Business Management
I mange my Online Business with a series of spreadsheets – 14 in total at the moment.  This helps me to know what I have done, where to find it and how it connects with everything else.  The spreadsheets are titled:
Monthly Targets
Business Plan
Business Management
Times
Scheduled Posting
Video List
Twitter Growth
Course Lectures and Reviews
Lead Pages and Links
Autoresponders
Pricing Strategy
OLP Check List
OLP Content
Linkshare Links
I cannot go through all of these, which I do in the videos, in detail but I want to help you understand the importance of detailed processes and systems.  Incidentally, there are another 20+ spreadsheets which I have designed and discarded in arriving at these.
Six Step Business Model
My starting point for my planning is recognising that I am effectively working to a Six Step Business Model – well what else would the Six Minute Strategist be doing???
1. Start with an Affiliate Business
2. Publish and Promote Courses
3. Create Complementary Products
4. 1:Many – Speaking and Seminars/Webinars
5. 1:1 – Coaching
6. Corporate Consulting
In the Course Creation Masterclass School I am developing on Fedora, this model will be at the centre of everything.  The premise is simple; start an affiliate business to fund the establishment of your own course creation capabilities – principally investing in hardware and software, assuming that you have a half decent computer to start with.
Content Creation Framework
When creating an Online Course, many instructors think that once the course is created, their work is done.  This is not the case as you can see from my Content Creation Framework below
Planning
Production
Publication
Proof
Promotion
Platforms
Once you have planned, produced and published your course, you still need to gain social proof, continually promote it and then get it up on new platforms to duplicate your monetisation from the same content.  Make sure that you are ready to put considerable time and effort into marketing your online courses/products/services.
Brand Building
As I develop my Online Business, developing a strong and distinct brand is a critical part of the strategy.  You should give careful consideration to this for your business.
Blog/Website – Home on the Web
Podcast
Video Channel
Social Media Marketing
Offline Activities
$ – Products
My website – https://jbdcolley.com is at the centre of everything I do on the web and it gets frequent updates, particularly from my show notes for my podcast.  The Online Learning Podcast is a great channel for meeting new people and getting me out there.  I would strongly recommend that you consider starting your own.
Video is at the heart of so much that I do and having a video channel on Youtube is essential.  While my viewing figures are not spectacular, I expect them to grow in time as will my Youtube Channel subscribers.
I recommend that you are active on Social Media – creating and sharing content as well as marketing your products and services.  I principally put time into Facebook (particularly Groups), Linkedin, Twitter, Google+ and Youtube.
Offline activities can make a significant contribution to your brand, as I found when I spoke at UKPOD14 last year.
This all enables you to monetise your products so you must have something to sell.  Know, Like and Trust comes before Pay!
Course Pricing
I have spoken about Course pricing many times but it is important to come back to it.
Range of Products at Different Levels – make sure that you have entry level products as well as high end products.  You will need both to make money
"Step Ladder of Product Offerings" – this range of products can be seen as a "Step Ladder" where once you get a customer on the first step, you encourage them to keep climbing up and buying more from you.
Progressive Upward Only Pricing Strategy – do not train your customers to believe they can buy your products cheaper tomorrow.  This is the inevitable result of continually discounting.
Avoid Over Discounting – Train your audience to expect only upward prices rises
Need Complex High End Products to make $$$ – If you are going to make significant money online it is much easier to sell $497 products to a few people, rather than $10 to thousands of people.
Primary Objectives for 2015
My Primary Business Objectives for 2015 can be summarised as follows:
Promote Online Learning
Share my knowledge with my Audience
Build my Brand and Reputation
Increase Course Sales to $10k per month
Get to 50,000 unique students
Keep costs down = high gross margin
Primary Execution
Achieving these objectives requires detailed strategies and I would summarise these as follows:
Create More Courses:
Fedora Sales – Target $5,000 a month

6MS Academy
Online Copywriters Masterclasss
Course Creation Masterclass

Udemy Sales – Target $5,000 a month
Skillfeed Sales – Target $500 a month
Affiliate Sales – Target $500 a month
Skillshare Sales?
Grow eMail List
Grow Online Learning Podcast
Speaking – Events and Webinars
In my video module I cover each of these in more detail as well as provide a break down of some of my income by course which demonstrates the [80:20] rule surprisingly!
Are You Ready to Learn More About Udemy and How to Create Great Udemy Courses?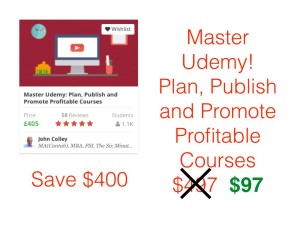 Enrol in my Flagship Course: "Master Udemy: Plan Publish and Promote Profitable Courses" for an exclusive 80% discount.
Over 1,000 Students (I don't ever give this Course away with Free Coupons) and over 50 Five Star Reviews!
Now 107 Lectures and 18 and a half hours of content! – the only course on making Udemy Courses you will ever need!
What Students are saying about the Course
"Amazing!
This is not an average course, it's a comprehensive that covers each and every aspect of course creation. The instructors goes in detail on topics like content creation framework, creating lectures in 30 minutes, 6 step business model, course optimization, course structure, course promotion and a lot more awesome content. The instructors also shares His own strategies and tips to create, publish and promote courses. So, from me it's 5 stars :)" Nizam K. Five Stars
"Everything you will ever need to know about teaching online
This course is a Monster! It is packed with incredibly valuable information about not only how to make money on Udemy, but how to make great courses that people will benefit from. There is no stone unturned with this course. John covers literally everything. From Black Friday strategy to putting your course on Skillfeed John gives you everything you will need to know to be a successful teacher online. I cannot thank you enough!" Joe P. Five Stars
"A Goldmine of Quality Information
"This course is a literal goldmine of information about how to be a better Udemy instructor by providing what the students want to learn and more importantly, how to make data-driven decisions. (as opposed to the emotional decisions that most of us tend to make) John covers so many areas – creating your course, analyzing your competition, etc. and includes deep dive looks at all sorts of things like number of reviews, number of students, pricing of your course. It's just amazing. When I enrolled in this course, I was looking for the exact answers that John gives, (I needed to "get my bearings" in this new business model called Udemy) and boy does he give great answers! (answers based on data, not emotion)
If you've ever wanted to get a more intense view of the Udemy "universe", along with precision hawk dives to the real meaty parts that instructors have questions about, this is the course to get." Dave E. Five Stars
Are You Ready to Learn More About Udemy and How to Create Great Udemy Courses?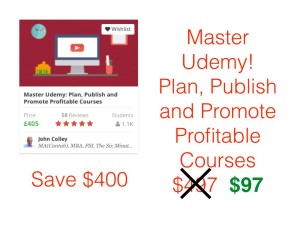 Enrol in my Flagship Course: "Master Udemy: Plan Publish and Promote Profitable Courses" for an exclusive 80% discount.
Over 1,000 Students (I don't ever give this Course away with Free Coupons) and over 50 Five Star Reviews!
Now 107 Lectures and 18 and a half hours of content! – the only course on making Udemy Courses you will ever need!
See You Inside!