Podcast: Play in new window | Download | Embed
John Colley is energetic, engaging and knowledgeable when it comes to Public Speaking: he never fails to deliver.  With a combination of Military Leadership experience and over 25 years of Business Strategy, Entrepreneurship and Online Marketing experience, John gets his message across and really engages with his audience.  John welcomes your enquiry for your next Public Speaking requirement.
John Colley – Public Speaking at UKPOD14
To hear an example of my Public Speaking, play the MP3 file at the top of this page.  This is one of my Online Learning Podcast episodes which contains the audio recording of my presentation at UKPOD14.
Clear, Actionable, Energetic, Entertaining
As a Graduate of The Royal Military Academy Sandhurst (the equivalent of West Point in the United States), John knows how to deliver clear and actionable information which adds real "How to" value to his audience. Incorporating his unique Six Minute Strategist Methodology, John can engage his audience, explain complex issues, all the while keeping it clear, actionable and entertaining.
Keynote Public Speaking Topics
Online Courses

Business Strategy

Entrepreneurship

Online Marketing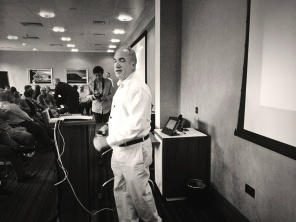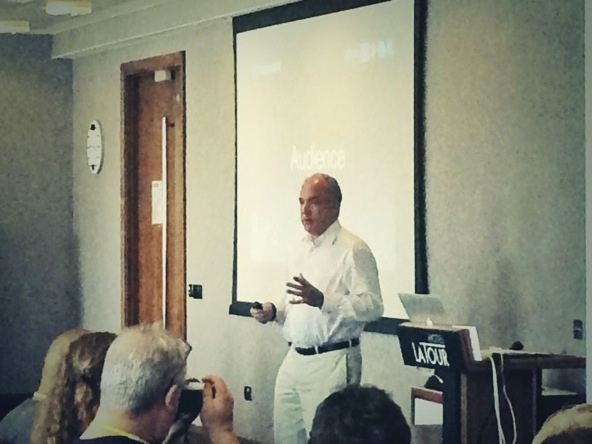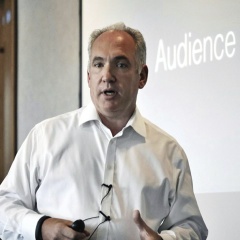 Interested?  Get in Touch
If you are interested in booking John for a future public speaking event, either in person or online, get in touch with John directly to have an informal discussion about your requirements.  Just email me at john[at]jbdcolley[dot]com.
Public Speaking Testimonials
Matt Young – Social Media Specialist, Digital Marketer and Connecting Devon & Somerset Partner trainer at Cosmic Ethical IT.
"I saw John give an excellent talk at a conference in Birmingham. His talk, which was late in the day, was the first one on the day delivered with real passion and knowledge. John used the entire stage (unlike others that day) and really kept the audience engaged. He kept my attention throughout and gave excellent, actionable advice which had everyone furiously writing notes."
Mike Russell – Mike Russell is the Creative Director at Music Radio Creative (Voice Overs, Radio Jingles, DJ Drops, Audio Production)
"I highly recommend John as a public speaker on the subjects of entrepreneurship, online marketing and motivation. 

Izabela and I organised the first podcasting conference, this decade in the UK, and John was one of six speakers during the one day event. 

He created an amazing and inspiring speech that inspired attendees during the event and afterwards on Twitter and other social media channels. He encouraged and inspired many of our attendees. I would highly recommend John as a speaker – he's personable, kind and provides great value."
Jon Buscall – Marketing & Communications Consultant
"I recently heard John speak at UKPod14, a national conference for podcasters in the UK. 

John spoke passionately and knowledgeably about launching and promoting a podcast. 

John's strategic approach to this subject, providing actionable takeaways for any business or entrepreneur looking to add podcasting to their marketing mix, was extremely well received. 

He is an engaging, inspiring and knowledgeable speaker. As someone who has presented on the B2B circuit for numerous years, I've heard a lot of talks myself; John's enthusiasm and strategic understanding of marketing and business put him right up amongst the best"
ilias diamantis – Independent Civil Engineering Professional
"I highly recommend John Colley as a public speaker . Recently I watched him speak at a podcasting conference in Birmingham ( UKPOD 14 ) . His speech was full of valuable information . Many speakers try to kill us with powerpoint , but not John . His presentations are captivating and provide lots of tips , tactics and strategies that you can implement in your business right away"
Izabela Russell – Managing Director at Music Radio Creative
"We have invited John to give a speech at the podcasting conference (#ukpod14). John didn't fail to deliver. His speech was engaging, full of brilliant content and to the point. Through the whole process John was very professional, punctual and simply a pleasure to work with. If you are looking for a great speaker – John has it all!"
Mark Williams – Independent LinkedIn Trainer aka Mr LinkedIn. Tailored LinkedIn training. LinkedInformed Podcast
"I have listened to John's podcast for some time and recently had the pleasure of hearing him deliver a speech at the UKPod14 conference where we also chatted briefly afterwards. 
John's talk was carefully planned and expertly delivered providing just the right mix of information, audience participation and engaging stories. I made copious notes and have implemented several of his tips since – very useful. 
I would definitely recommend John as a highly competent and engaging speaker"
Helen Harding – Chartered Marketer, Inspirational Mentor, Trainer and Coach and Lightning Process Practitioner
"John presented a captivating talk at UKPOD14 where he generously shared his wealth of experience and knowledge with the audience – highly recommended!"
Rob Cubbon Owner, Lead Designer and Marketer at Rob Cubbon Ltd
"I have know John Colley for over a year and I can recommend him whole-heartedly not only a great public speaker but also as an expert in a wide variety of financial and marketing fields. 

John is an expert on M&A, capital raising, angel investing, company sales, etc., as a result of his time in the city and ongoing interest, which is impressive enough. But added to that he also is hugely knowledgable in the modern fields of online promotion, social media, blogging and podcasting which are essential to businesses today. This, as far as I'm concerned, is a fairly unique mix. 

I have seen John talk in conferences as well as in front of a whiteboard in smaller meetings and he is always able to impart his knowledge in an engaging and educative manner. 

I should also say that John has a special interest in online learning and his passion for self-education comes over in his talks"
Joseph Bushnell – Internet Marketing Consultant & Speaker | Social Media Marketing Manager| Internet Marketing Digital Products & Software
"I had the pleasure of hearing John speak at UK Podcasters 2014 and his talk was excellent and full of energy. I've implemented the strategies he gave and I'm seeing results already!"
Shaun Frolich, UK Partner Manager, Microsoft UK, following a presentation to the Microsoft National Channel Conference
"John – thank you for a fantastic job well done last week. Your hard work and delivery exceeded our high expectations and the feedback has been universally positive."
Jerry L. London School of Management and Accountancy
"John delivered a presentation on Integrated Networking to our MBA students, as part of our Enterprise Network Club series of lectures. During his talk John covered the subject of the concise use of Social Networking as an effective tool for connecting with people, who are outside of your immediate professional network but who you should definitely be talking to. John also explained the strategy for breaking down your network into six demographics and which group you should be specifically focussing your business, time and energy on. He went on to provide analysis and data that clearly backed up his strategy and presented it into a bite size formula that he calls the "Six Minute Strategist", which is also an online blog that John writes every month.
Both my students and I found the presentation extremely useful and well delivered. I will be asking John to deliver further talks at our new media school and would recommend my academic colleagues to do the same."
Lynne Rose, Experienced Recruiter who offers support and advice as well as Recruitment and HR Services
"I met John when he spoke at the Salisbury Big Business Event in April and attended a seminar he ran entitled "How NOT to be the next Comet. Online Marketing in the Connected Economy".  John's presentation was well delivered and full of useful help and advice on how to implement an effective on line marketing strategy and how to connect with your customers effectively."
Eliot Jones, Franchise Co-Owner at GreenThumb Lawn Treatment Service
"If you are looking for a superb strategist, tutor and social media expert, John would be a great asset to help make the most of your business. John is personable and a professional, I cannot reccomend him enough."
Alan Evans, Learning & Development Manager, Made To Measure Training
"John responded to a request to help our team understand the power of social networking. He arrived clearly having thought through our possible wants and needs and had tailored his approach to the audience. John delivered a punchy and content rich 3 hour session increasing both my knowledge and interest in the topic."
Interested?  Get in Touch
If you are interested in booking John for a future event, either in person or online, get in touch with John directly to have an informal discussion about your requirements. Just email me at john[at]jbdcolley[dot]com.