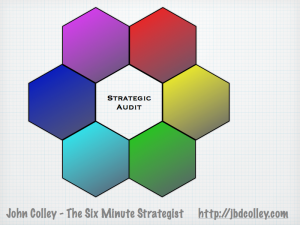 I am delighted to announce the launch of the Six Minute Strategist Strategic Audit
In discussions with clients we are frequently asked a wide range of strategic questions about their business.  We have spent a considerable amount of time collating these in order to produce a coherent and holistic approach to Corporate Strategic Evaluation.
Using a broad range of tools and drawing on over two decades of advisory experience, we have drawn this together into an organised and comprehensive programme.
We are therefore very excited to be launching the Six Minute Strategist Strategic Audit,  offering client companies the opportunity to work with us to conduct a comprehensive Strategic Audit of their business based on the Six Minute Strategy methodology
Who is this intended for?
We believe that this is most applicable to growing privately owned companies or divisions of public companies who want to gain a real insight into their business, how it is positioned and how it is performing.
What does the Audit Cover?
The six segments of the Six Minute Strategist Strategic Audit comprises of six modules – all designed to really get under the skin of the business.
Strategic Position
Business Analysis
Financial
Valuation
Competitors
SWOT
A little more about each of these, although of course, we can't give you all the detail here.
Strategic Position
How do you stand in the market? We shall look at the position of the company in its market, taking in products and services, customers and competitors
Business Analysis
Is your Organisation unto the challenges of today's business? A close look at Management, Staff and Shareholders as well as the company's go to market strategy and competences will come under the microscope.
Financial
What do the numbers look like? What do they mean? The goal here is to evaluate past, current and future performance and prospects.
Valuation 
Am I creating real value for shareholders?  How can I do better? The key question that every Entrepreneur wants answered.  We delve deep into the valuation issues which are applicable to your company
Competitors
Have I got the right strategy to compete?  Otherwise known as Know Your Enemy, using only publicly available information, we make a structured appraisal of your top 20 competitors to help you become more effective.
SWOT
Strengths, Weaknesses, Opportunities and Threats.  The so what analysis from all the digging and delving above.
Will this be Confidential?
Yes.  John will engage with you as a Partner of IAF Capital.  IAF Capital is Authorised and Regulated by the Financial Services Authority
How do I find out More?
To sign up to the Six Minute Strategist Blog List and reach out to us to learn more click on this link.  If you are already a subscriber or do not want to join the list, please contact John directly by email at john.colley[at]iafcapital[dot]com.  We will get back to you quickly to tell you more about the Six Minute Strategist Audit and how we can work together.
When you call, I will tell you about our introductory time limited Offer on the Strategic Audit Programme.
Oh yes, there are some BONUS elements too….but you need to ask me what they are by emailing me or calling me.  All the details are on my contact page here.