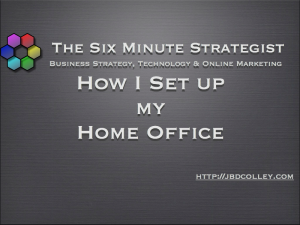 This is an introduction to how I have set up and organised the principal elements of my home office.  
While I am fortunate to have an office in London for my Corporate Advisory work as a partner of IAF Capital Limited, I try to spend several days a week working from my home office and this is therefore a very important part of my work/life balance.
Disclaimer: Please note this article contains affiliate links and I may be paid a commission if you click through on them and make a purchase.  In the article I am explaining what I like and what I use and this has nothing to do with the affiliate relationship.  I will not promote items I do not believe offer good value or good quality.  If you do click through, please allow me to thank you and ask you to email (jbdcolley[at]aol[dot]com or tweet me (@jbdcolley) me to let me know so I can thank you personally.  I really appreciate the support.
Making a Start…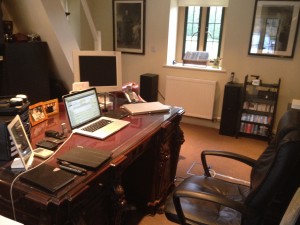 The first element you will need is a suitable room, preferable somewhat cutoff or separate from your main house.  This needs to be yours – all yours and not shared with your life partner.  Its not that I am not into the sharing thing but you need the space to be able to concentrate and focus on your work.
I would then make sure that, however you furnish it, you have a good desk and a comfortable office chair.  In addition, sufficient drawers, bookshelves and cupboards for putting everything away in makes it much easier to remain organised.  I have to admit that I am not always the tidiest person in the room and my desk can sometimes look like a tornado has hit it.
That then is the basics.  Lets get down to the real meat of this article, the technology!